It is not new for a business to utilize a remote or work-from-home work force. Technology advancements and a global pandemic have contributed to the acceleration of businesses accommodating remote employees. However, just because you may have the Hosted VoIP phone system platform and other technologies that support remote employees, it doesn't mean that your business has the experience to foster the positive remote employee relations needed to build a productive environment.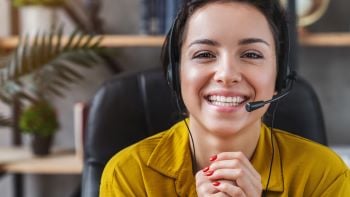 Setting up a remote working environment is much more than just providing the technology to make it happen. An important principle to adopt and gain a commitment to is that external parties (customers, suppliers, and other contacts) should have no clue that your remote team is not actually working at the office! The ability to take and make phone calls on the office phone system while working remotely is one example of this principle. But it goes much deeper than this. Below are some tips to make your remote team engaged, happy, and productive:
Set the Standards – Establishing the expectations for work is much more important for remote workers as they are not at the office for supervision, modeling behavior, and simple conversation. It is important to establish the expectations up-front, so everyone understands the "rules." You may require that they have a clear and defined work space, free from home distractions. Where it is possible to take a lap top and soft phone to a kitchen table or out to a patio, you may not want your remote employees doing that especially if they are in any type of an external communication role. The important thing here is that if this is your expectation, make it clear as a requirement right from the start. Anything that is important to you as a supervisor is important to communicate clearly as an expectation. If there are any metrics to achieve, such as the total number of phone calls taken or made, set the expectations and then monitor and report them frequently.
There are some inherent expectations of flexibility when employees are working remotely. Businesses need to define exactly what this means. Employers never want to feel they are being taken advantage of and the remote team doesn't need to be made to feel guilty about being in a flexible environment. Again, a clear definition of flexibility up-front will temper any of these natural feelings down the road. Businesses also need to have clear expectations of supervisors managing a remote workforce as well, so there aren't different approaches deployed for different teams.
Create Opportunities for Human Connections – There are many benefits of deploying a remote workforce, but those benefits can be negatively impacted if these employees feel isolated. Being a part of the company culture and assimilating that culture into their actions is very important. Specific actions to this end are required.
Set specific times for one-on-one and team meetings accomplishes several goals. Certainly, maintaining the overall team expectations and goals are one. More importantly is that these meetings are opportunities to nurture the relationship and drive home the feeling that they are part of the team and the company.

Make efforts to include the remote team in company events.

They need to be included in company-wide meetings. Company events, like lunches, social, or community service, can be a bit more challenging, especially if the remote employee is not local to the business. Accommodate the remote team as much as possible. If there is a company lunch, coordinate delivery of a lunch to the remote team and have them participate via a video conference or

conference call

. Much of the company culture comes from these activities, so do not leave them out!

Create a buddy system. Remote employees should interact with more people than just their supervisor. Especially with new employees, creating a mentor or buddy system where there's an expectation for routine communication both ways is a great way to provide another human connection for your remote team.
Mind the Communication Gap – Avoid the trap of "out-of-sight, out-of-mind" that can occur when managing a remote team. Communicate with the team often, not just on scheduled meetings. When you find yourself typing up an email to a remote team member, ask yourself if it is necessary to "document" the communication. If not, pick up the phone and dial their extension. Verbal communication is always much better. Another option, although not as personal, is a company chat platform. Chat platforms are great for one-off questions, informal check-ins, and other conversations that happen in the break room if they were working in the office. Just be sure to set the rules and expectations upfront, including the official standards and conducts that apply.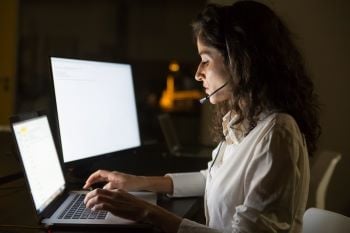 Deliver the Right Technology – Creating a productive environment for your remote workforce of course includes providing them with the technology to make it happen!
Computer – This is an obvious standard issue, but ensuring they have VPN access to company shared documents, calendars, CRM, and other business software is important.

Business Phone

– Most business have evolved to a

Hosted VoIP phone service

from a traditional, analog on-premises phone system. When a business phone service is hosted, it means that the phones are connected to a cloud-based system rather than required to be at a single location. This has allowed businesses the flexibility to deploy phones anywhere there is an internet connection. Your remote team can have

VoIP phone

devices that make the most sense for your business. They can have a VoIP desk phone, assuming they can accommodate it on their workspace, or they can have a soft phone on their laptop or even their cell phone.

Call Monitoring

– Many Hosted VoIP providers can deliver a browser-based tool to allow for monitoring of calls and integrate with the phone operations. sipVine's

sipPanel

as an example delivers the opportunity for all to see who is on a call, transfer and make calls, managing call queues, chat, and deliver a presence status. Additionally, supervisors can listen or listen and whisper on active calls. This provides a great QA or training platform.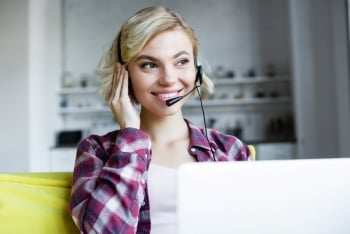 Foster the People – Nothing helps develop your remote team more than being open to their ideas. Welcome their thoughts on best practices, remote team building, inclusion in company culture building, and remote employee engagement. Don't forget to deliver praise, directly and publicly. An engaged remote workforce will deliver benefits. Your customers may not be aware that you have a remote team, but they will feel what it means to be serviced by an engaged, motivated, and satisfied employee.
Make every interaction with customers count with the help of sipVine's complete business communication solution! A better phone system for your small business with advanced features to match your unique business needs! Make your company's business communications better by engaging better customer experiences at every touchpoint. Want to learn more? Our small business phone service representatives are here to answer any questions you have!