NORTH KANSAS CITY, MO. – sipVine, Inc., a hosted business VoIP service company, has certified a new line-up of phones to the products they sell and support. Today, sipVine will begin supporting the newest models from Polycom, the VVX Series. sipVine exclusively supports two of the top VoIP phone manufacturers, Cisco and Polycom. This action is driven by the quality, longevity, ease of use, and the general flexibility in provisioning of the phones.
The VVX series has a nice range of models in this series. The lower-end VVX300 is an affordable workhorse with a gray scale screen and six lines. The mid-range VVX400 offers a color screen and 12 lines. Both phones have dual 100mb Ethernet ports for network connectivity. The VVX310 and VVX410 models have dual 1gb Ethernet ports. The upper end VVX500 and VVX600 are media phones with color touch screens, video capability, 1gb Ethernet ports, and 12 lines and 16 lines respectively. Additionally, Polycom offers expansion modules for these phones to add Busy Lamp Field (BLF) visibility for 40+ users. You can add up to three expansion modules per phone for 120+ user visibility.
The VVX300 and VVX400 are easy to use and very affordable for a full office deployment. The standard VoIP phone features of transferring callers, forwarding, three-way conferencing, and voicemail access are all highly intuitive and easy to use when connected to the sipVine platform. Further, Polycom's speakerphone is simply unparalleled in the industry, and these phones are no exception. The VVX500 and VVX600 models are clearly best-in-class VoIP phones, featuring touch screen menu selection. All phones have Busy Lamp Field (BLF) visibility of other phones on the network and integration with Outlook Calendar.
"We are always very excited when we launch a new phone on our platform, let alone a full line-up," states Mark Greim, VP of Sales and Marketing. "These phones have some tremendous appeal, both in terms of how they look and work, but the higher-end application for the user." Colin Wells, sipVine's Chief Technical Officer, adds: "We take a very methodical approach when launching a new phone on our platform. Not only must it pass the test for usability, but also the phones must meet our standards for provisioning flexibility. We customize so many deployments for our customers that we require a very high level of provisioning efficiency. These models will serve our customers well as productivity enhancers."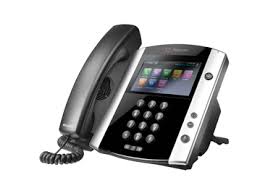 sipVine will begin leading with this series of phones, as the current Cisco SPA series and the previous Polycom series are all several years into deployment. The VVX series are available for deployment across all sizes of customer, perfect for small to mid-sized companies.
If you'd like to learn more about these phones and all phones within the sipVine line-up, please contact sipVine sales at 816.802.8000 or 855-SIPVINE, option 1.
About sipVine, Inc.
Based in North Kansas City, Missouri, sipVine provides a hosted VoIP phone solution specifically designed to meet the needs of business customers at an affordable price. sipVine's solution is flexible and expandable, with all the features, options, and configuration of a traditional corporate phone system. sipVine can deliver both the equipment and phone service coast to coast.