KANSAS CITY, MO. – sipVine, Inc., a hosted business VoIP service company, has expanded the branded softphone, sipSoft, to mobile devices. Previously, the sipSoft applications were only available for computer desktops and outsourced third-party applications were used for iPhone and Android mobile devices. In this case, we are using a sipVine managed third-party solution for mobile devices.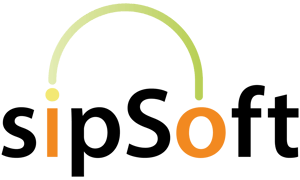 "We are extremely excited to expand our sipSoft brand to mobile phones," says Robert Conner, sipVine's CEO. "We have entered into an agreement to manage an enterprise version of a market leading soft phone, giving us the ability to control provisioning and billing for the devices. This will drive benefits to our customers."
Softphones for mobile devices have driven even larger benefits for businesses who have switched to Hosted VoIP phone service. Highly mobile employees can make and receive phone calls to their mobile device as if they were on their desk phone at the office. Outbound calls deliver the caller ID of the business and not their cell phone. Inbound calls to the direct dial, to the extension, or routed from an auto attendant option all can now be received by the associate when they are on the go.
sipSoft also works great for service or support teams in an on-call environment. The entire team can be included in the ring group but only those on call after hours can turn on their soft phone. This simplifies the procedure and will still allow for the call to be logged and recorded.
The functionality of the sipSoft for Mobile devices has the feel of cell phone. Contacts can be synched from your cell phone or easily added. Call history is logged for when the application is turned on. Where it departs from the cell phone and begins to feel like a desk phone is the ability to extension dial internally, transfer calls, and conduct conference calls.
If you are an existing sipVine customer, reach out to us via your sales representative or technical support to add the sipSoft solution. If you are interested in sipVine's Hosted VoIP phone service to achieve greater flexibility in your communication strategies, please reach out to our sales team at 816-802-8000 or sales@sipVine.com
---
About sipVine, Inc.
Based in North Kansas City, Missouri, sipVine provides a hosted VoIP phone solution specifically designed to meet the needs of business customers. sipVine's solution is flexible and expandable, with all the features, options, and configuration of a traditional corporate phone system. sipVine can deliver both the equipment and phone service coast to coast.