YOUR SEARCH FOR BETTER PHONE SERVICE IS OVER
Choose the favorite local VoIP provider and switch hassle free
sipVine: Business phone service.
Your business deserves the best phone service! We are here for you.
Sweet Phones
Feature Rich Phones and More.
Does your old office phone system meet the needs of your business, now and into the future? Boost production with the newest technology from sipVine and never replace your system again!


Awesome Service
Fire the Phone Company Today!
Does your business phone service provider REALLY know you? sipVine customizes our Hosted VoIP service to be specific to your business and our customers consider us their personal phone department!
No Term Contract
None. Nada. Zip.
Are you frustrated by being tied to a term contract from a provider who isn't incentivized to perform? sipVine strives to be the best VoIP phone service by earning your business every day, and you will feel that difference.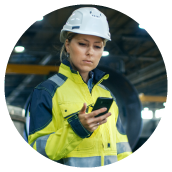 Customized Plans
Serving Businesses of All Shapes & Sizes.
Whether you are a small business in a single location or a multi-location business or a healthcare provider, manufacturer, law firm, non-profit, and more, sipVine will customize our service to meet your unique needs.
Side by side comparison
Compare sipVine to the National Providers
Searching for business VoIP phone service or changing providers? The big companies seem fine on the surface. But, dig a little deeper!
If you prefer your office phones and remote VoIP solutions to be programmed and administered for you, want instant support from local experts, want no hidden costs or rate increases, then sipVine is a better choice for you!
SWEET PHONES. AWESOME SERVICE.
The Best VoIP Phone Service
Every feature you need to run and grow your business backed by exceptional customer service.
"We transitioned to sipVine and it couldn't have gone any better. Their customer service backed up what they told us they would do and when. I'm looking forward to a long partnership with sipVine!"
What to Know Before Moving Up to Business Hosted VoIP