You know it is time for a new phone system, but you're overwhelmed with how to start your search. This will help you determine what type of phone service provider is best for your small business. Many small businesses have determined that their existing phone system is outdated and past the point for repair and they are looking where to turn to maximize their new investment. Their current phone system is failing or falling behind the features and functionality their peer businesses or competitors are now enjoying since moving to a Hosted VoIP phone service. Even though it is clear through high adoption rates that most companies have selected Hosted VoIP as the best phone system for small business, it is more of a challenge to find the service provider that will work best for you.
There's a new competitive landscape in the world of business phone service and systems. In the old days, you would seek out a phone system from a local manufacturer's representative and the phone service from the Regional Bell Operating Company. Today, Hosted VoIP providers deliver both the phone system and phone service to the business, essentially a "new telecom bundle". The challenge is that there are a myriad of Hosted VoIP service providers, from large global/national providers to regionally focused service providers and down to value added resellers of a white-labeled product. By comparing the capabilities of each type of organization and matching to the unique requirements of your business, selection of the phone service provider that is right for you becomes more clear.
Global/National Hosted VoIP Providers
This category of providers is best suited for small businesses who have:
In-house IT resources familiar with telephony programming
Needs for cutting edge phone features
Internal IT resources can spend the time required to program the phones and call flows themselves and take care of on-going administration. Businesses who don't have the in-house capabilities or time to take on the programming and administration are less of a fit and tend to be frustrated with the customer service engagement with these providers. The focus by the provider is to instruct the business on how to utilize the service portal rather than solving the issue.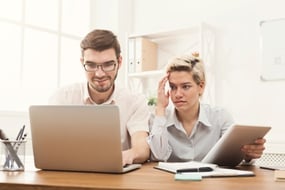 Global VoIP providers are typically publicly traded companies and tend to be on the cutting edge of new product development. Their areas of focus are marketing and product development, as they are under the watchful eyes of their shareholders for new customer additions every quarter. They dominate the paid search marketing strategies, so you will have no problem finding them on line and receiving a quote for your service. These providers drop ship the phones and provide a robust customer portal for businesses to self-service their phone programming.
Regional/Local Hosted VoIP Providers
This category of providers is best suited for businesses who:
Do not have in-house IT resources
Prefer working with local businesses they can trust
Elect to have the systems programmed and installed by the providers, rather than DIY
Businesses who do not have an in-house IT resource or have the time or expertise to handle the programming and administration of the phones and call flows are best suited to be served by a Regional/Local Hosted VoIP provider. Typically, these small businesses are looking to maximize their communication strategies with current technology.
Providers in this category are typically privately held organizations with a singular focus on VoIP service. They are not resellers or have secured a white-labeled platform from a major provider, but have their own platform and service. Being privately held and internally responsible for product development, these companies tend to follow the larger providers when it comes to new feature development. However, where they really shine compared to the nationals is in the level of customer service provided. These providers tend to provide more of a full-service administration for their customers, rather than pushing customers to a portal. They typically handle the programming of the phones and system for their customers so that the business requirements are better met.
When searching for these providers on-line, add your location. For example, search for "hosted VoIP providers in Kansas City," and review the non-paid search results on the first or second page. Not only visit their website to make sure they are truly local, but check out their Google listing and reviews. Once in touch with these providers, asking specific questions about their platform (is it their own or do they resell or white label) and their approach to customer service (full-service or self-service) will help you confirm that you've found a provider in this category.
VARs and White Label VoIP Resellers
This category of providers may be a good choice for businesses who are:
Looking for a high level of features
Expect some degree of support
Small businesses can take advantage of this model and receive higher level features from a robust platform. What may be a challenge is that the Hosted VoIP company here is not ultimately responsible for the pricing, support, system up-time, and stability, and they may or may not disclose this fact with you. You would need to decide if you are comfortable trusting your phone communications with this structure.
There are many businesses who have a specialty in another business service, such as IT support, who have added Hosted VoIP to their service offerings. There are two ways they go about doing this, one more transparent than the other. Value Added Resellers (VARs) or even independent sales agents like a telecom broker can resell a national provider's service and receive a commission. There are some VoIP businesses who have been built around using a white label platform. What this means is that the technology, system, and true back end support are provided to these businesses as a platform, but the businesses are able to place their logo into the structure and promote it as if it were their own. These companies make money on the margin, the amount they can sell above the wholesale price.
Resellers or White Label VARs have less pricing flexibility and less influence over the actual solution to a service concern. They may offer a tier-one type support where they can handle some customer service items through the platform's portal, but they would need to place a ticket into that provider for more complicated support issues. However, for relatively very little risk and cost, they would have access to a very feature-rich VoIP platform. For businesses who do more than just VoIP, this is an easy way to add value to their customer base.
Many times these opportunities are presented to you by your IT support company, who has added Hosted VoIP to their offerings via a reseller or white label relationship.
Now that you've chosen the type of provider, what's next?
Once you have determined what type of Hosted VoIP provider is the best match for your business, you can begin your search for the best provider for you within the category. Again, finding the nationals is easy. But, if the regional/local or Reseller/VAR works best for you, it will require a bit more effort to find one. Once you do, the following list of questions will help you determine if they are the right company for you.
Do they own the platform and system up-time, or are they reselling or utilizing another's platform in any way?
How do they handle customer service (DIY or live, local support)?
Do they perform all of the pre-install programming along with the physical installation of the phones?
Answers to these questions will allow you to know which category the provider is operating within and narrow the list of whom to get proposals. Best of success to you in finding the right VoIP service provider for your business.
About the author: Mark Greim is the Vice President of Sales and Marketing at sipVine, a provider of a variety of VoIP phone solutions and services. Mark has extensive experience working for start-up or entrepreneurial organizations and has a passion for affordable, reliable, and purposeful technology solutions in those environments.