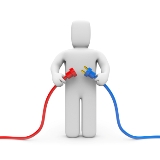 With business internet usage continuing to increase, contention for bandwidth between your data and VoIP activity can create problems. Yes, the convergence buzzword has been replaced with contention!
Why is this happening? Business needs and applications are evolving fast. Even with bandwidth expansion availability from internet carriers, keeping up with the increasing demand is a challenge. More businesses are using cloud computing applications, using the internet to move data to a host server rather than to servers on their local area networks. On-line data backup is another such application. General use of the internet continues to accelerate, both for personal and business purposes. With the sky-rocket adoption rate of smart phones, the lines between business and personal have blurred, and office internet usage is following suit. Social media is not only a personal outlet, but a business tool and resource. Buying practices have shifted toward internet research and ecommerce, and marketing activity has followed.
I'm looking at my personal browser. On a daily basis, my browser auto-opens tabs for three social media sites, five cloud applications, news, and Google. Each application is actively worked throughout the day. This is becoming the norm, and it requires a lot of bandwidth to perform efficiently.
What is the impact on VoIP applications? Most businesses today use a VoIP phone service application for their phone service needs. When a company uses a hosted VoIP service, voice packets travel over the same internet connection as the data packets. Good VoIP phone service providers will provide instructions to program your router to prioritize voice packets over data to ensure that your calls remain clear and free from interruption. However, if the internet connection is highly saturated with activity, even the best prioritization routines will be compromised. Phone conversations can experience poor voice quality and phones can lose their registration and go off-line.
What can be done? Where available, you should look at your internet provider's capability to add bandwidth to the circuit or change to a provider who has the ability to grow with your needs. Depending upon your internet usage and needs, you still may have occasional contention between your voice and data traffic. However, an alternative may be to separate your voice and data network.
With a separate voice and data network, your calls and phones will no longer be impacted by your data usage. Many VoIP phones have two ports on the back which allow for a computer to share an Ethernet cable to the network. The phones and computers can still share an Ethernet connection to the servers, but they will simply be directed out disparate internet connections. This can be accomplished by setting up a vLan on your switch or by simply assigning the phones separate IP addresses and route them out the new internet connection. Your network manager or your hosted VoIP phone company should be able to assist you with this programming.
Finally, voice calls do not require much bandwidth (80 kb/s non-compressed). Dependent upon your concurrent call maximum, your alternative connection may not be required to be very large.
Capture some statistics on your network usage. Compare this with the anecdotal complaints from your employees about internet speeds and VoIP call quality and then investigate your options for more bandwidth and/or disparate connections for voice and data.
About the author: Mark Greim is the Vice President of Sales and Marketing at sipVine, a VoIP Phone Service Provider based in Kansas City, MO. Mark has extensive experience working for start-up or entrepreneurial organizations and a passion for affordable, reliable, and purposeful technology solutions in those environments.