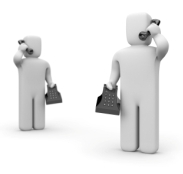 Is Voice Quality and VoIP an oxymoron? It very much can be, and for business applications it is imperative that your VoIP Service Provider has a solution to address voice quality.
Sharing internet bandwidth for voice and data is a good thing, allowing for the convergence of communication features and the economization of connectivity. Sharing bandwidth without quality of service protocols, however, is not wise. This can lead to intermittent silent pauses, which is just one of the voice quality concerns with VoIP. Delay, due to latency or jitter, or voice echo, due to inferior or lack of noise cancellation equipment, are additional challenges with VoIP.
Some VoIP service providers merely drop ship your pre-configured phones with the instructions to plug them onto your network and all will be fine. They may have sized your bandwidth correctly and applied compression to your voice packets as their recommended solution. This is not enough! An evaluation of the path to their host site is important to ensure latency is within acceptable limits. Also, your VoIP provider needs to provide some level of traffic management at the router level or an edge device to your network. This "QoS" solution keeps the voice traffic prioritized and without interruption by data traffic.
Why is this important? Imagine your customer placing an order with you and you hear "I need one thousand units by Thursday." When you deliver the thousand units, your customer calls you and indicates that although he appreciated the early delivery of the thousand units, he was looking for "one hundred thousand jumbo units by next Thursday."
Don't let this happen to you. Make sure your VoIP provider is as focused on voice quality as they may be on features and benefits. Check out sipVine's VoIP QoS solution as an example of a provider who places a premium on voice quality for all of the business digital phone service customers.
About the author:

Mark Greim is the Vice President of Sales and Marketing at

sipVine

,

a provider of a variety of

digital phone solutions

and services. Mark has extensive experience working for start-up or entrepreneurial organizations and a passion for affordable, reliable, and purposeful technology solutions in those environments.