Explore the Many Paging Options with sipVine Hosted VoIP!
Great Features from the Best Phone Service Provider!
Whether your business is a traditional professional office, a medical provider, an office/warehouse, or any other type of business, you may need options for paging. With sipVine, you can initiate all types of pages directly from your sipVine phone!
Direct Phone to Phone Paging
Some customers require the ability to page directly from one phone to another. sipVine offers direct paging extensions to allow for this capability.
Page All Phones
Again from your sipVine phone, you can initiate a page to all phones. If someone is on the phone, their call will not be interrupted nor will the page come over their speaker. Paging all phones simply goes to any inactive phone on the local network.
You can also set up paging groups, so only selected phones in a group receive a page.
Overhead Paging
If your business has an existing overhead paging system in a warehouse or overhead paging speakers in an office, we can generally connect to it by using our Algo paging adapter. This device connects to your network and your existing paging amplifier. There are some cases where this setup will not work, but we can conduct a site survey in advance of the installation to ensure no other equipment is necessary to complete the installation.
The overhead paging system is also accessed via the phones, as the Algo paging adapter is the receiving extension for the page. This can be a separate paging extension just for the overhead paging and it can also be included in the "page all" if you choose.
New Overhead Paging Systems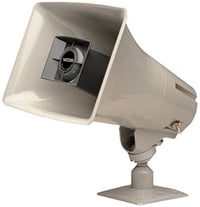 sipVine can also provide the equipment for a new overhead paging system. For warehouses, we provide self-amplified Valcom paging horns, a power supply unit powering the horns, and the Algo adapter. We can consult on the wiring required and the setup of the system. We are not able to physically install the horns or run the wire, but we do set up the Algo and paging extension.
We also can provide ceiling-mounted speakers or other options designed for overhead paging in an office, school, or medical facility.
Other Options for Your Warehouse
In some cases, you need more than paging in a warehouse. In loud environments where it is difficult to hear a phone ringing, we can deploy a device that generates a loud ring and strobe light when a warehouse phone rings. If that phone or phones are included in the main line ring group, we can also activate the loud ring device when the main line rings as well.
sipVine associates have assessed many overhead paging setups over the years. If paging options are what you need, we can provide them! If you'd like a quote or consultation, please reach out to us.