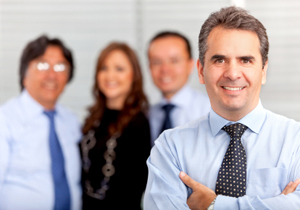 Who are sipVine's customers? Anyone who needs a good, affordable, flexible solution for their organization's phone system. But there's more to it than that. There are many ways you can spot a sipVine VoIP customer. While they come from all walks of life, and all types of business, they've always got a few things in common. sipVine customers are:
Happy – There are few things in life more satisfying than when something works exactly as it's supposed to, and with sipVine's VoIP service, our customers have a lot to be happy about. Our commitment to customer service ensures that anything that goes wrong is handled quickly, efficiently, and with a minimal disruption to our client's business, so that our customers can keep that smile on their face.
Secure – At sipVine, nothing is more important to us than the security and privacy of our customers. Our hosted platform features fully-redundant servers in a secure data center, and our customizable built-in disaster recovery program lets our customers maintain control even in the event of an interruption of service.
Well-connected to their customers – VoIP phone service from sipVine ensures that our customers are always in touch with their customers clearly, easily, and efficiently. It's our business to make sure that our customers can do business.
Flexible – sipVine customers are highly adaptable entrepreneurs and business leaders, riding the wave of new technology, and they expect us to be just as flexible. That's why we offer customizable deployment packages to ensure that our VoIP plans fit the specific needs of our customers.
Efficient – There's a reason that customers choose VoIP phone solutions. They want to get more done, and they don't want an outdated phone system getting in the way. Our customers have a lot to do, and they need solutions that will help them get it done as quickly and efficiently as possible.
Cutting-edge – Hosted VoIP phone service allows our customers to future-proof the phone system at their business. sipVine stays on top of new technology, and helps implement it seamlessly into their VoIP system, with no more need to worry about old phone systems becoming obsolete. Plus, our custom-tailored feature deployment means that our customers can add their own personal touches to their phone systems.
Confident – Our customers need to be able to have confidence in themselves and their business, which means they need to be able to feel confident about the performance of their phone systems. That's why they rely on sipVine. Our round-the-clock observation, maintenance, and support of our hosted VoIP systems give our customers the peace of mind they need to run their business.
Savvy – Our customers want the best from their phone systems, but they also don't have money to burn. They want a good return on their investment, and they know that VoIP phone systems can save money not just on installation, but also down the road in monthly service charges, maintenance, and administrative costs.
Forward-thinking – VoIP customers are looking to the future, not just in terms of riding the crest of new technology, but also in terms of business growth and cost savings. Hosted VoIP from sipVine allows our customers the flexibility to easily adjust their phone systems to changing business needs and new challenges, while also offering them cost-saving benefits in the long term.
Satisfied – Above all else, sipVine customers are satisfied. We consider it our duty to ensure that our customers receive the best possible service, and we're so committed to it that we require no long term contracts. We believe that our service speaks for itself, and that our customers will be so satisfied that they'll be happy to keep coming back to us month after month.
If you think you've got the makings of a sipVine customer, give us a call today to learn more about our VoIP phone solutions!
About the author: Mark Greim is the Vice President of Sales and Marketing at sipVine, a provider of hosted VoIP phone systems and services. Mark has extensive experience working for start-up or entrepreneurial organizations and has a passion for affordable, reliable, and purposeful technology solutions in those environments.