Businesses in the Computer and Networking Services Industry are choosing cloud telephony for a variety of reasons. The types of businesses in this sector include Cabling and Wiring companies, Network Managers and Consultants, and Software developers. These businesses are highly mobile and promote new technology themselves, so moving to a digital phone service makes great sense for them.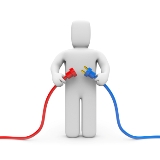 These businesses are routinely on the go, and their personnel need to be reached by customers and other employees wherever they may be. By choosing a Hosted VoIP provider, there are a variety of options are that are available to them. Examples include maintaining a phone at a remote office or home, delivering simultaneous ring of their extension to their desk phone and cell phone, deploying a soft phone on their laptop, and/or having a virtual extension to their cell phone. Additionally, receiving voicemails and faxes to their email also allows them to be better in touch with their callers.
Computer and Network Service companies are in the business of promoting technology and cloud computing to their client base. By actually deploying a cloud telephony solution for their company, they are able to demonstrate to their clients an example of one of the advancements they promote. By choosing the right VoIP service provider, they may also partner and sell telephony services as an agent for the provider, enhancing their solution portfolio.
One of the big advantages for all businesses that adopt the digital phone solutions is the flexibility these solutions have to be tailored to how they do business. Look for providers who consult with their clients and program the options to specifically address the business needs and communication practices. Again, this capability falls nicely into the skill set for this industry, as they are developing similar solutions for their client base.
As your business evaluates cloud services, see if your network consultant deploys a cloud telephony solution themselves.