This week is National Small Business Week, a celebration and recognition of small businesses across the country. Small businesses make up over 99% of the employers in the United States and are responsible for two out of every three jobs. Thus, it is no surprise that nearly all of sipVine's Hosted VoIP customers are also small businesses. We'd like to recognize and thank all of our customers for their loyal support and continuous referrals.
Small businesses gravitate toward the Hosted VoIP phone services for a variety of reasons. We recently drafted an article covering the 5 Reasons Small Business Choose Hosted VoIP where these are detailed. Here we'd like to focus on why they are choosing sipVine as their provider of choice!
Concierge Approach to Customer Service - The national VoIP providers have done a good job developing a self-servicing portal and have driven their customers to handle their phone administration. At sipVine, we were out to set a new standard for customer service and the concept of "self service" didn't fit in with the strategy. Moreover, we have heard from numerous former customers of the national VoIP providers that such portals were not that intuitive and drove more frustration than freedom. Thus, sipVine handles all of the phone administration and programming for our customers. The standard we set is to be seen as their phone department, not a provider.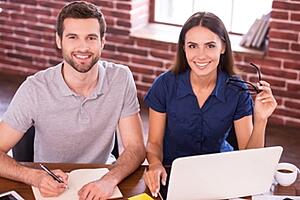 Programming Service to Meet Specific Needs - One of the benefits of the concierge approach is that we conduct a pre-install meeting to go over all of the specific requirements of the business. The call flow, auto-attendant, feature utilization, and specific phone layouts are all considered. The designed is turned over to our technical team and they handle all of the programming. Again, we do not push customers to self-provision. We have witnessed on 100% of customers moving to us from the national providers significant misses in how their phones were programmed. Let sipVine handle the phone programming and you can get on with managing your small business!
Large Coverage, Local Feel - sipVine covers over 90% of the rate centers across the country, but we support our customers with a local approach. We don't deploy a call center approach to support or sales. All of our support and sales personnel are located at our corporate headquarters in Kansas City, MO and we do not off-shore or contract out such important customer-facing activities. Because we get to know each business and how they want the system programmed, we are able to support them the same way.
sipVine is deeply rooted in the business community and feels a kinship with each and every customer. We invite you to call and feel the difference! We'd love to welcome you to the family!
About the author: Mark Greim is the Vice President of Sales and Marketing at sipVine, a provider of a variety of VoIP phone solutions and services. Mark has extensive experience working for start-up or entrepreneurial organizations and has a passion for affordable, reliable, and purposeful technology solutions in those environments.