Now that we have a little longevity to the VoIP for business Marketplace, we can see that the market has evolved quickly with traditional market maturation undertones. What may have been a surprise to us all is how quickly businesses moved to the new technology, as voice over IP installations are the preferred solution when compared to the old analog phone technology. Even more surprising was how slow to respond were the traditional large telecommunication companies. They have effectively ceded the business phone service market to VoIP providers, relegating themselves to wholesale roles. Let's take a view of how this market has evolved.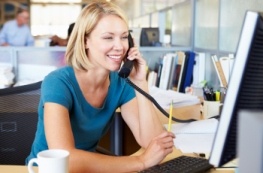 sipVine, a Kansas City-based voice over IP provider, has been operating since 2005, essentially bearing witness to this evolution. "We knew we were on to something, but we were even surprised at the pace of overall adoption of the technology by businesses large and small," shares Robert Conner, sipVine's CEO. "What has been very clear are the four stages of market evolution that can be identified over the years."
Early Adoption Stage - As with any new technology, you have your early adopters. Fueled by a vision of the technological impacts to their business, these early adopters embraced the technology for what it was and what it could be. This went from "wow, we can process phone calls over the internet" to "look at these great new features that can actually improve our communication practices."
Later in the early adoption stage were the businesses looking to save money over their current analog service. Telecommunication firms were not responding to the price advantages VoIP providers were delivering, leaving the door open for a great amount of savings to be delivered. The cost and flexibility of a hosted VoIP system was so much better than purchasing an on-site system that many companies were seeing a full return on their investment in under a year.
There were challenges during the early adoption years, namely voice quality and bandwidth availability. At sipVine, we were able to develop technology to solve the voice quality concern, but the industry was not getting a good reputation from providers who did not provide such a solution. The answer always was "increase bandwidth", which wasn't necessarily the right answer or easily accomplished. T-1's and DSL circuits were the options available, although some alternative providers (like cable) were making inroads into the bandwidth challenge.
The "My Phone System is Failing" Stage - Even as businesses were embracing the new technology and finding ways to save money, the early adoption years basically covered the same time frame as the economic recession. Many businesses simply were not in a position to invest in new technology, even if there was a quick return on the investment. Infrastructure expenditures were deferred and phone systems were put on life support. As recessionary pressure eased, the industry experienced a wave of new customers that were very ready to replace their outdated or failing phone systems.
This is also the stage where many businesses were seeing their peers or competitors experience positive results by moving to a VoIP system and they were ready to make the change themselves. This was the time of the greatest growth of the VoIP industry and the technology was clearly on the move to pass analog installations in the business community. National VoIP providers and some regional/local providers were at the forefront of technological advancements to the product capabilities and provided a new level of customer service when compared to the traditional communications firms. Businesses flocked to these alternatives in droves.
The Last Staw Stage - As with any market, there are always late adopters. These were the folks in the earlier stages that would say, "my phone system works, why change?" Or, "I've been with XX&X for years, and I'm loyal." Several things happened to these businesses later in the game. Either their phone system became too expensive to support or they may have gone through a location move and it would be more expensive to move the phone system than to go with a hosted VoIP platform. Or, they became tired of their loyalty to the phone company being rewarded with rate increases or outsourced/off-shored customer service that lacked any resemblance of service. There were many, many examples and references of businesses that had made the move years earlier, and they drew upon that success and made the move themselves to voice over IP.
This stage was also marked by a proliferation of bandwidth availability. In markets like Kansas City where Google Fiber entered and disrupted the market, businesses had more choices for bandwidth, especially as the cable and telco providers responded to the competition. Bandwidth availability of 100 mb/sec to 1 gigabit per second became available and affordable. Not only did this provide another big boost to the VoIP providers, it allowed businesses to move more and more of their IT infrastructure to the cloud.
Let the Cream Rise Stage - Throughout the first three stages, most of the "wins" by VoIP companies were at the expense of the traditional telcos or cable companies providing analog service. This current stage of the market is marked by many wins coming at the expense of other VoIP providers. VoIP providers who have continued to add to their functionality, better customized the experience for their customers, or who have created a customer service model that differentiates them above the other VoIP providers are continuing to experience good growth during this current stage of a very mature market.
There are still businesses who are switching to voice over IP for the first time. For those businesses, there are a few tips to be mindful of as they select their provider:
Select a provider who can provide a number of references and those references can speak to the level of customer service delivered.

The provider should be able to customize the solution to meet your needs. VoIP platforms are very adaptable. Some providers, however, make this the responsibility of the customer to deploy and program their phones. Good providers do this for the customer, as they have the expertise and experience across a number of market segments and are in a better position to do the programming.

Look for a provider who does not require term contracts and offers only high quality VoIP phones that are not locked down to their service. There are many VoIP phone manufacturers, but not all phones can be reused on another VoIP company's platform. At sipVine, we only sell Cisco or Polycom phones because they rarely break down and they are commonly used by other providers. Of course, our service level is high enough that customers rarely leave, but we believe strongly in providing such flexibility to the customer.
Following these tips will help ensure that you are finding a provider who has already risen to the top. This will keep you away from further disruption by needing to switch again later. You should experience fantastic benefits by moving to VoIP which you can guarantee by selecting the right provider!