As we approach year end, many businesses are making their IT infrastructure plans for the next year. As you may expect, investing in cloud infrastructure is high on the list. One of the most common cloud initiatives for businesses focused on cloud investments is moving the phone system to a Hosted VoIP platform, or Cloud Telephony.
Information Week recently conducted a poll of readers, as they were interested in where the information technology spending will be focused on this next year. Although not intended to be scientific, it did present an informal take on the areas of focus. "More than a third of respondents (36%) cited cloud as the technology that will receive the greatest investment at their companies in 2017."
There are many forms of cloud investment, and cloud telephony is often overlooked as a great source of securing significant benefits to the organization. This includes reduced costs in both the short and long term, increased flexibility, and an upgrade in applications supporting the business.
Reduced Costs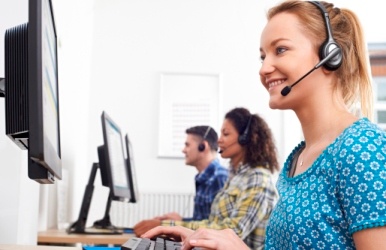 As businesses invest in Hosted VoIP, they are able to replace their outdated phone system with a state-of-the-art system at a fraction of the costs. The investment for Hosted VoIP is low, as you only need to purchase the VoIP phones. The physical system itself is hosted by the provider and it is not a cost incurred by the business. Thus, the business will no longer need to worry about a phone system replacement in the future. Additionally, many IT managers are challenged to support and maintain old systems. They are either bearing a high maintenance contract or paying a high price for parts that are difficult to secure. All those concerns go away with Hosted VoIP. The only future costs will be handset replacement or addition. Again, if current models are outdated, the business can replace with newer models and not necessarily have to replace all of the phones.

The monthly cost for phone service may also be reduced by moving to Hosted VoIP. Along with standard all-inclusive packages for local and long-distance calling, the cost of hosted user fees are typically lower than the all-in phone line costs for analog systems. Additionally, many Hosted VoIP providers serve as your phone administrator, making changes to user names, call flows, auto attendant recordings, and such. Some provide user interfaces for self-servicing, but look for the provider that will make these changes for you at no additional cost. This will provide the business with internal labor savings dedicated to keeping the phone system up to date.

Increased Flexibility

Cloud Telephony provides much of the same degree of flexibility as Cloud Computing. Specific to your phone deployment, businesses no longer are confined to the walls of the office for the reach of their phone system. Associates can be deployed across multiple locations, whether an office environment, a work from home assignment, or a strictly mobile device. Calls can be directed to or made by these associates with all appearances that they are working in the physical office.

For increased associate availability for calls, a soft phone application can be downloaded to a smart phone, tablet, or computer. If a person has a desk phone, this application can be designed to ring at the same time, assuming it is turned on. Thus, no matter where or what time a call needs to be made or received, the associate can utilize the soft phone to increase their availability.

Upgrade in Applications

Moving to a Hosted VoIP phone system from a traditional analog phone system, the business will likely benefit from an upgrade in the feature set. They can customize the call flow and add ring groups. The auto attendant can also be customized to match the needs of the business and their customers. They can also have different attendant messages and options based upon the time of day and/or day of the week. The service also comes with standard features like direct inward dial numbers for each phone, voicemail delivery to email, call transferring and conferencing, and call recording. All features and call flow programming are designed to enhance the communication experience for customers and associates.

It's budget season, so make sure your IT plan for next year includes adding cloud telephony to your other cloud initiatives. It is an easy way to drive further budget savings while enhancing your communication capabilities!

About the author: Mark Greim is the Vice President of Sales and Marketing at sipVine, a provider of a variety of VoIP phone solutions and services. Mark has extensive experience working for start-up or entrepreneurial organizations and has a passion for affordable, reliable, and purposeful technology solutions in those environments.