It's a matter of time before every business will be evaluating their phone system. With many businesses delaying infrastructure investments until the economy turned around, there's a rush of new phone system investments being made each and every day. Successful businesses have recognized that much has changed in the technology in the last decade and are making the switch to a hosted VoIP solution.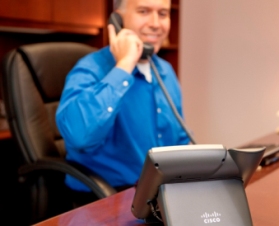 Similar to other information technology decisions, phone service can also be moved to the cloud. Business leaders have recognized that their infrastructure investment dollars can be spread widely over several initiatives because capital and servicing costs are minimized through a hosted service model. Specific to the telephony decision, moving the system and service to a hosted platform significantly reduces the up-front capital investment.
Cost Savings: With hosted VoIP, businesses do not need to invest in an on premise PBX or phone server. Such equipment is what is provided and maintained by the hosted VoIP provider. They only need to invest in the VoIP phones that connect to the hosted provider. Not only is the capital outlay greatly reduced, but the access to advanced features is significantly increased. Additional savings can be secured by not employing or contracting resources dedicated to the upkeep and maintenance of a local PBX. Some hosted providers, like sipVine, provide all of the on-going administrative services as well, included at no additional charge.
The New Bundle: Traditional phone companies secured term agreements from businesses and convinced them that bundling voice and data services created value. This value, sometimes more perceived than real, only produced a pricing value at the expense of a committing to term agreement. Hosted VoIP providers can ride any high speed internet connection, but a real value can be achieved by bundling the phone service with the phone system. Value is delivered because the phone service is now a program resident on the hosted platform, and this program can be designed to match the specific needs of the business. Additionally, hosted VoIP providers that perform the configuration and administration get to know their customers very well during the process. Good providers take advantage of this opportunity and provide significant service benefits to their customers.
VoIP Technology: As mentioned above, much has changed in the world of telecommunications over the past decade. Analog line based systems are antiquated. They worked well in the past but are very expensive to deploy when attempting to match the features and benefits of the affordable hosted VoIP services. Simply put, a hosted VoIP system can be configured to match the needs of the business rather than the business conforming to the constraints of the phone system. Businesses also do not have to worry about obsolescence, as it is the responsibility of the hosted provider to develop and deploy new features as technology advances.
Successful businesses measure themselves on the results of their decisions. A decision to deploy a hosted VoIP system is a can't-fail decision, as it delivers an affordable investment, a valuable bundling of system and phone service and an improvement in technology.
About the author: Mark Greim is the Vice President of Sales and Marketing at sipVine, a provider of a variety of VoIP phone solutions and services. Mark has extensive experience working for start-up or entrepreneurial organizations and has a passion for affordable, reliable, and purposeful technology solutions in those environments.