To compete in today's environment, small businesses need enterprise level features and capabilities found in Hosted VoIP phone service. Settling for low-featured phones or over spending for a complex phone system isn't necessary, and small businesses can rise above their competition with improved communication practices.
Hosted VoIP is affordable, flexible, and scalable. Businesses only purchase the number of VoIP Phones they need, and can easily scale up as the business grows. This keeps the overall cost of a phone system commensurate with the size of the business. There's no longer a need to install an overpriced, larger phone system to provide the features you need on the hope that you will grow into it.
Businesses across all industries are using Hosted VoIP. Retail, professional service firms, healthcare clinics, manufacturing offices, construction companies, and non-profit organizations have all implemented Hosted VoIP, as the system is flexible and customizable to fit the unique needs of every business in every industry.
VoIP features deliver communication advantages. Every business looks to create an advantage over their competition. With Hosted VoIP, you can design a call flow and auto attendant that is unique to your business environment with your customers in mind. You can increase access to your customer facing employees with virtual phones, direct dial numbers, call groups, and other levels of programming.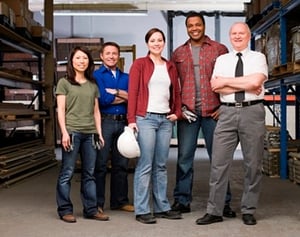 Now, the key is finding a Hosted VoIP provider that understands these needs and is built to support small business. Such providers will do the programming and on-going administration for you, freeing you up to concentrate on your business. These providers also deliver affordable, consistent rate plans and not plans that increase as you add features.
If you've been delaying getting your business on Hosted VoIP, chances are that your competitors have already made the switch. This technology has never been more affordable. Feature sets continue to grow and the technology is now proven with time. Reach out to a Hosted VoIP provider today and see how affordable and applicable it is for your business.
About the author: Mark Greim is the Vice President of Sales and Marketing at sipVine, a provider of a variety of VoIP phone solutions and services. Mark has extensive experience working for start-up or entrepreneurial organizations and has a passion for affordable, reliable, and purposeful technology solutions in those environments.