Professional service firms represent the largest customer demographic of Voice over Internet Protocol (VoIP) phone system buyers. Advertising and marketing agencies, which fall within the professional services category, have discovered that a VoIP phone solution best meets their team's communication needs. Between the flexibility to work from anywhere and other advanced features, a large percentage of advertising and marketing agencies are switching to VoIP phone service.
As a VoIP phone service provider based in Kansas City, our sales team evaluated whether this was true for sipVine. In fact, it was. For our VoIP phone service, 20 percent of our customers are in the professional services industry, including a high number of finance, insurance and real estate firms. And, within that category, 20 percent are advertising and marketing agencies, specifically traditional agencies, digital marketing firms, web design companies and marketing consultants. One thing those in the professional services area have in common when looking for better phone service is they want the low investment, flexibility and scalability that comes with VoIP phone systems.
Exactly What About VoIP Phone Service Works Well for Advertising and Marketing Professionals?
VoIP phone service includes features and technology that are suited to the way advertising and marketing professionals' work. Between staff and client meetings, communicating with vendors and working from the office, the road and home, VoIP phone solutions let staff work effectively and efficiently. Choosing VoIP gives agencies a long list of advanced features, and a few of the most useful for advertising and marketing employees are:
Unified Messaging sends voicemails and faxes to email, allowing employees to be mobile without being out of touch with clients.
Virtual Office is perfect for freelancers, contract, work-from-home and remote employees since VoIP phones can be taken anywhere and give the impression of being in the office.
Conference Features are essential for advertising and marketing execs who often conduct conference calls. A three-way conference call can be initiated on-demand from the phone.
Automated Attendant connects clients directly to their account executive and frees agency staff from receptionist duties.
Direct-Dial Numbers mean each employee has their own direct line number to share, keeping cell phone numbers private and allow for key client contacts to reach them directly without first going through a receptionist or auto attendant.
Find-Me/Follow-Me connects direct dial and extension calls to remote desk phones, soft phone on laptops, or soft phones on cell phones.
Not Only Do VoIP Phone Features Match Advertising and Marketing Workflows, but Also VoIP Phone Service Itself is Customized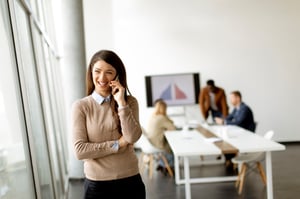 Advertising and marketing firms can deploy VoIP phones in multiple places. These include the office, employees' home offices, and any other location where the team uses laptops or mobile devices. This gives agencies the flexibility to have their employees work wherever it is most efficient. Advertising and marketing people are often mobile, and soft phones on their laptops or mobile devices allow them to receive and make calls as if they were at the office, improving responsiveness, productivity and client satisfaction.
As your advertising and marketing firm grows, choosing VoIP phone solutions means never outgrowing your system. Simply order the number of phones for new staff and connect them to the office network. VoIP phone service is ideal for start-up agencies or those bringing on contractors. If a firm expands to other areas in the city or nation, VoIP phone service coverage is nationwide and the features are available everywhere your employees locate. If it is a new branch, securing new local numbers for that branch is possible. If you merely have employees working remotely, they can have a direct dial number that provides the appearance that they are local to the firm.
Only Pay for the VoIP Phones Used
One of the great benefits of a hosted platform is that the up-front investment is very affordable for advertising and marketing agencies. You only pay for the VoIP phones used, not the system itself, as that is the responsibility of the Hosted VoIP provider to maintain. Some providers, such as sipVine, do not charge for administrative or programming services provided to their customers.
Speaking of administration, beware of the self-setup of VoIP phone solutions. VoIP is basically a platform, meaning it is programmed to operate in a way that best meets an agency's needs. There are some VoIP phone service providers who leave the setup to the customer. That's fine for experts with VoIP phone experience, but not so easy for those new to VoIP. sipVine handles it all, from listening to the needs, priorities, and unique workflow characteristics to build the call flow, auto attendant, and phone set-up to match. Our staff even trains employees on how to use VoIP phones.
Is It Time to Switch Your Advertising and Marketing Agency to VoIP Phone Solution?
Choose a VoIP phone service provider who delivers the customer service your agency's staff and clients deserve. sipVine provides Hosted VoIP services to advertising and marketing firms across the United States. Ready to learn more? Our small business phone service representatives are here to answer any questions you have.