As small businesses experience VoIP phone service from a National Provider, many are left underwhelmed by the customer service and overwhelmed by the amount of self-servicing they need to do to have their phone system operate as they intend. Although features are robust, the requirement to self-program the phones and call flow leaves most small businesses confused. The provider's customer service isn't necessarily helpful, as they mainly try to educate the business owner on how to use the self-servicing portal.
Programming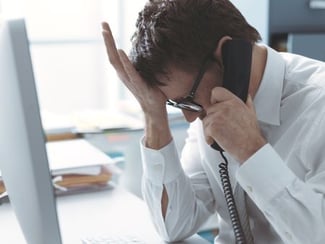 This is where everything falls apart for the National VoIP Providers. Their business model consists of high-end features coupled with a marketing machine. With a high cost of system development and customer acquisition, they are forced into a self-servicing approach for the phone system programming. Phones are drop shipped to the customer, but they are not exactly "plug and play". It is more of a "plug, program, and play" model. Customers are directed to a portal where they design and program the phones, call flow, auto-attendant and implement the feature set on their own.
Most small businesses do not have the internal resources to be able to interpret the portal to the point where the end result translates to the most effective configuration for their operations. As mentioned previously, the customer service, often not domestically based, is set up to educate the customer on how to use the portal, not assist in the actual programming.
Alternatively, Hosted VoIP Providers like sipVine, apply more resources to the ultimate customer experience. sipVine sales resources hold a configuration meeting with the customer to discuss how they want everything programmed. These results are delivered to the technical support team for programming prior to the installation and number porting. Thus, when the sipVine team shows up for a physical installation or we ship to remote locations, all the phones are truly plug and play.
This is a vast departure from the approach from the National VoIP providers. "In 100% of our takeaways from the nationals, we find that their phones and call flow are not programmed in a way that best serves the customer," says Robert Conner, CEO of sipVine. "We see phones programmed with all lines reflecting the DID/Extension of that phone and not set up with a main line (if they are in a main line ring group), Park extensions, Busy Lamp Fields and various other options that may have worked well for that customer. The fact is that customers find it difficult to navigate the self-servicing portal to create the right configuration for their needs."
Administration
National VoIP Providers such as Ring Central, Nextiva, Vonage and 8x8 also have their customers take responsibility for all changes on the system. Tasks like user name changes, ring group adjustments, auto attendant changes are all handled by the customer. If they did figure out initially how to program busy lamp fields on the phones, all of the phones would need to be updated as user names change as well. This requires that the customer remembers how to navigate the portal and make such changes. Where some customers like a hands-on approach to phone administration, it still is a responsibility that takes them away from their business operations and advancement.
Alternative VoIP providers such as sipVine take care of all of the administrative requirements for their customers, essentially working as their phone department. Requests are sent in via tickets, email, or a simple extension (7HELP) that is directed to the support team. This support team is not a contracted service but employees based right here in the United States! Relationships are developed between the customer and the various members of the support team. No National Provider can make this claim! This results in the customer never needing to worry about phone programming or changes and can direct their activities to their own business operations.
Installation / Training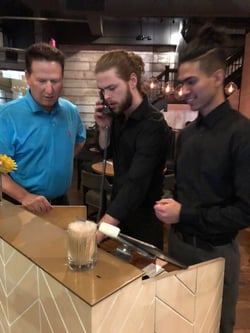 Again, the business model of the national providers does not account for providing physical or supported installations. Phones are drop shipped, programmed and installed by the customer prior to the porting of the phone numbers. Training resources are available via webinars or on-line training resources.
sipVine provides physical installations at no additional charge for businesses within their regional footprint. Businesses outside of the region are provided with installation support from our service personnel. sipVine sales resources coordinate and conduct training sessions, again at no additional charge.
Is it time to make the switch from a National VoIP Provider? Make every interaction with customers count with the help of sipVine's complete business communication solution! sipVine provides Hosted VoIP services to businesses across the United States. A better phone system for your small business with advanced features to match your unique business needs! Make your company's business communications better by engaging better customer experiences at every touchpoint. Want to learn more? Our small business phone service representatives are here to answer any questions you have!