For years, we've published articles on the virtues of a Hosted VoIP solution for your business relating to empowering a remote or multiple location organization. Now, with the coronavirus concerns and prevention efforts impacting businesses in an unprecedented fashion, the benefits of a Hosted VoIP phone system are real and significant.
At sipVine, we have always promoted additional devices for the occasional work at home or the highly mobile employee. These devices could be a duplicate desk phone at a home office, a soft phone appliance for a laptop, and/or a soft phone for a mobile device. Recently, we have taken more calls from clients and prospects to implement such devices for a more comprehensive work at home strategy for all personnel non-essential to the physical location. Business are actively looking for ways to keep their employees safe. With devices registered to employees at remote locations, the small business doesn't need to engage in complicated call forwarding processes to personal cell phones. They are essentially "on the phone system" wherever they are located.
It all sounds a bit surreal, but Hosted VoIP phone service is absolutely a path toward business continuity in the face of a public crisis. We've discussed Hosted VoIP providing continuity in the face of catastrophic events, but that has always focused on events specific to a business location, such as a fire, flood, internet outage, and the like. A public health crisis such as what we are facing now in the Spring of 2020 with the coronavirus is without precedence in many of our lifetimes.
Most businesses have already made the switch to VoIP for their business phone service and should have the capabilities to adjust their staff deployment utilizing this technology. For those who are still on an analog system, you may have questions as to how Hosted VoIP can accommodate remote employee strategies, whether temporary or permanent in nature.
Hosted VoIP is a cloud-based business phone service, meaning that you no longer need to install or maintain a phone system at your location or locations. The Hosted VoIP provider maintains the central system in a secure location which is accessed by their customers via the internet. The business customer installs VoIP desk phones which run over the office network and connect to the provider. Soft phones on a laptop connect to the internet via a home or office connection and soft phones on a mobile device can connect over a wireless connection or WiFi.
Connecting phones over the internet is the key, as they can be deployed anywhere there is an internet connection available. They do not have to be at a physical office location. External callers have no idea as to where the phone is answered, only that they are easily able to connect to their intended party. Internal callers can extension dial or transfer calls to other company associates, again with no concern as to where they are located.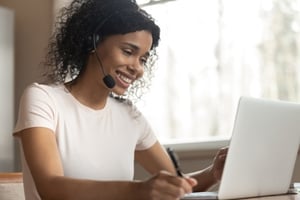 Through the utilization of Hosted VoIP, businesses can have employees work at home without impact to customer communications. Absent a need for a work at home strategy, they can take advantage of this technology for highly mobile employees, such as sales, or high customer contact employees. Such employees can have duplicate devices engaged, such as a desk phone and a soft phone on their mobile device. Thus, when a call comes in for that employee, they can answer it at their desk or wherever they are located via their soft phone appliance.
Certainly, this article is time-sensitive to the current state of affairs in this country. Many businesses are making the determination of how they will address prevention or employees who need to be quarantined. However, Hosted VoIP is both a solution for the current situation but also for long-term flexibility in how businesses connect employees, whether in a disaster situation or as a strategy to increase customer accessibility to their employees. Feel free to reach out to sipVine if you would like to discuss these options further or better understand the full capabilities of Hosted VoIP.
About the author: Mark Greim is the Vice President of Sales and Marketing at sipVine, a provider of a variety of VoIP phone solutions and services. Mark has extensive experience working for start-up or entrepreneurial organizations and has a passion for affordable, reliable, and purposeful technology solutions in those environments.