Businesses with multiple locations are perfect matches to reap the benefits of a Hosted VoIP phone system. Standardizing the phone system and service across the entire organization creates operational efficiencies, financial rewards, happy employees, and delighted customers.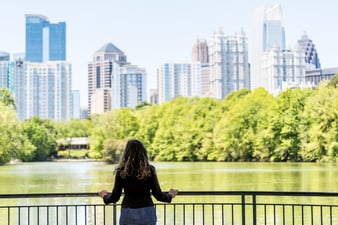 At the heart of the solution is the fact that each business location no longer needs to have an on-site phone system and a separate agreement with a phone service provider. With Hosted VoIP, the "system" is essentially built and maintained by the Hosted VoIP provider and accessed by the business via their internet connection. Thus, it essentially is the same phone system for the entire organization regardless of where the phones are deployed. Local phone numbers are ported to the Hosted provider and the provider is able to secure more direct dial numbers for the location if required.
How does this solution create the best phone service for multiple location businesses?
Same Phone System Means Standardization
Each location is deploying the same type of VoIP phone and phone features. Such a standard allows for common approaches to training and establishing call handling procedures. Employees can move from location to location without the need for retraining, and customers can build a level of call handling performance regardless of who is handling their call. Employees can also retain their direct dial number and internal extension if that is appropriate for the situation.
Call flows and auto attendant messaging and options can be standardized across the organization. Again, this limits confusion among the customer base and contributes to brand consistency.
Same Phone System Means Efficiencies
Hosted VoIP creates opportunities to develop better procedures for handling communication. Not only are multi-site businesses able to delight their customer base, they and drive real cost savings.
Internal communications are improved with Hosted VoIP. Employees can extension dial or transfer calls to employees regardless of where each employee is located. It is much easier to collaborate with peers in such an environment. Internal meetings can be conducted over a conference call which can be set up as an extension to dial. Employees who are out of the office on appointments, away from their desks, working remotely, or working from home can be more accessible with a soft phone app on their smart phones. Extension dials or call transfers will go to their soft phone app when it is turned on, eliminating the need to leave voicemails or engage in a forwarding process to a cell phone each time these employees are away from their desks.
External communications are also enhanced with Hosted VoIP and commonality between locations. Employees can have direct dial numbers. Where appropriate for their role, they can provide external callers with their direct dial number and eliminate the need to go through a receptionist. The soft phone app works well for external callers as well, and they will be happy to connect with their intended party even if they are not at their desk. Of course, if that party is busy, voicemails can be delivered to email so urgent messages can be reviewed and returned as quickly as possible. Additionally, auto attendant routing can direct callers to the appropriate party for their particular need regardless of whether that employee is at the location called. For example, the accounts receivable department may be located at a headquarter office, but each remote location's auto attendant has the option to route to accounts receivable. When selected, callers are routed to a ring group of employees in that department at the headquarters.
Centralized processes and call flows by function is where real savings and customer satisfaction can be realized. Each organization is different, but solutions can be customized to the unique call flow requirements and staffing scenarios. Below are some examples:
Shared reception model - Each location may have a reception or main line ring group set up. In the cases where businesses want calls answered and avoid auto attendant routing, branch locations can serve as back-ups for each other. So, if one location is busy handling callers, the next call can route to a back up location or locations. External callers would have no idea that their call was answered in another town, just that it was answered. Callers can be easily transferred to their intended party regardless of where that employee is located.
Centralized functions - Businesses can centralize the handling of certain type of call activity. Using "customer service" as an example, all calls designated for customer service can route to a centralized team. This assumes that the responsibilities and functions of customer service are consistent between locations and can be handled centrally. Instead of employing a customer service team at each location, a centralized approach can build a team based upon call demand and drive cost savings.
Decentralize teams - Now for the beauty of a common phone platform, you can actually decentralize common call flows. Taking the customer service example again, instead of deploying the team at a central location, you can create a team regardless of the location. So, you may have eight locations, but deploy five customer service representatives wherever they are located. Calls can be transferred to a customer service extension which would ring to that group or callers can be directed to the group via the auto attendant.
Same Phone System Means Financial Benefits
Highlighted previously are ways to utilize the common phone system to drive efficiencies and cost savings. These are areas where the greatest opportunities reside for creating large financial benefits. However, businesses selecting Hosted VoIP can also receive some direct benefits on their telecom costs.
The most obvious direct financial benefit is the fact that you are not purchasing phone systems for each location, just the number VoIP phones required. Not only is this outlay a fraction of the cost of separate phone systems, you no longer have to service or maintain a system. This also creates an avoidance of obsolescence costs in the future, as it is the responsibility of the provider to maintain and upgrade their system.
There's also an opportunity for economies of scale on the monthly phone service costs. Some Hosted VoIP providers have a declining rate per user on the system based upon the number of phones deployed. Others may simply offer discounts for larger opportunities.
Finally, businesses may consider making a portion of their staffing model virtual, reducing the need for physical locations. Because the phone system is in the cloud, employees can be set up at their homes where appropriate. Virtual staffing models can be a good employee retention and satisfaction tool.
Every multi-location business is different and has unique opportunities and challenges. Feel free to contact sipVine anytime to simply discuss ideas and scenarios that come to mind for your business. We love to talk through ideas and provide examples and solutions of what we have in place for similar businesses today!
About the author: Mark Greim is the Vice President of Sales and Marketing at sipVine, a provider of a variety of VoIP phone solutions and services. Mark has extensive experience working for start-up or entrepreneurial organizations and has a passion for affordable, reliable, and purposeful technology solutions in those environments.