This is an additional post in a series of hosted VoIP feature spotlights. Many hosted VoIP providers can deliver call recordings, eliminating expensive options for this feature. Levels of service, pricing and approach vary widely, so if this service is important to your business, investigate the options carefully.
The typical delivery of call recording services is "on-demand", meaning the user can press a couple of buttons and initiate a call recording. The recordings are sent to the user in the form of an email with a sound file attached. Providers handle the timing of the delivery in different ways. For example, some deliver the recordings during off peak times.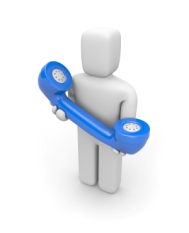 For companies who require recording of all calls, this may be an option that adds additional costs to the service, but is possible. Check with your potential provider on the options and costs before signing up. Additionally, the providers should be able to play a recorded message before all inbound calls are delivered indicating that calls may be monitored or recorded for quality assurance purposes, as an example.
Finally, the recording of calls can carry legal requirements. These requirements vary in every state, so be sure to know the laws before you initiate recording of calls as a practice.
About the author: Mark Greim is the Vice President of Sales and Marketing at sipVine, a provider of a variety of digital phone solutions and services. Mark has extensive experience working for start-up or entrepreneurial organizations and a passion for affordable, reliable, and purposeful technology solutions in those environments.