One of the greatest benefits of a Hosted VoIP Phone Service is the flexibility it offers to match the unique communication flow found in every business. Many businesses are surprised and even intimidated by such flexibility in their phone system, so starting with a list of best practices can get the ideas flowing.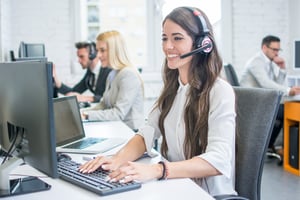 Call Flow – the initial decision companies face is how calls flow into the office and when to deploy an auto attendant. The vast majority of sipVine customers prefer to have calls answered live and utilize the auto attendant as a daytime back up and a primary for after hours. Most customers direct their calls initially to a primary receptionist for a few rings and then to a back up ring group of a few people for a few more rings. If all are busy, the auto attendant backs them up and directs callers to their appropriate party. Each ring is approximately four seconds in duration, and it is a best practice to have calls answered under thirty seconds.
Auto Attendant Programming – the fundamental decision on the auto attendant should surround how callers typically are routed after the call is answered. If it is to specific individuals, a dial by name directory should be the first option. Avoid listing out a handful of employees in favor of a directory, as a list may signal the size of your company. If your calls are directed to departments, such as sales, customer service, billing, etc., place the departments in order of volume. If there is no answer by the ring group associated with the department, the call should flow to a customized message associated with that department and the message forwarded to the appropriate distribution list.
The auto attendant should only be a single level and you should avoid more than six options. Always include an ability to leave a message to the general voicemail box. After hours auto attendants should be separately programmed and the recorded message should indicate the office hours. Options should be limited to a directory, perhaps an on-call option, and the opportunity to leave a message.
High Contact Employees – in many companies, it is critical to have certain calls answered every time, or at least creating that option. With a Hosted VoIP phone service, companies can deploy a find me/follow me approach or set it up so that a soft phone app on their cell phone rings simultaneously with their desk phone. Sales personnel are the primary example of this situation. As they tend to be out visiting prospects and not in the office, a soft phone app provides them the opportunity to be "found" by callers no matter where they are located.
Program to Match your Callers' Needs – there are numerous other options available to businesses who have chosen a Hosted VoIP phone service. As a best practice to programming any option, put yourself in your caller's situation and consider how they would like the option to work. Chances are it would also enhance the efficiency of your office.
Is it time for a new office phone system? Make every interaction with customers count with the help of sipVine's complete business communication solution! sipVine provides Hosted VoIP services to businesses across the United States. A better phone system for your small business with advanced features to match your unique business needs! Make your company's business communications better by engaging better customer experiences at every touchpoint. Want to learn more? Our small business phone service representatives are here to answer any questions you have!