Does your company look at your office phones as a productivity enhancer? Companies that have adopted a hosted VoIP system into their office environment certainly do. There are so many features and functions available, and they should be easily customized to integrate into the operations of the business and enhance productivity.
Below are several real world examples of how businesses have applied a hosted VoIP platform into their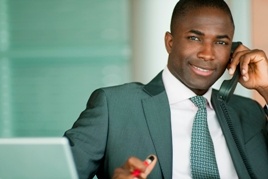 operations:
Direct Dial Numbers for Key Contacts - With a hosted VoIP system, you can introduce direct dial numbers into your organization. Where you don't need to widely publicize all of these, certain employee groups, such as sales, can benefit from providing direct dial numbers to their contacts. It frees up the business's main line, although sales calls coming from the main line can be easily transferred to a sales associate or sales ring group.
Direct Sales Associates are Never Out of Reach - When a sales associate is out of the office, calls to their direct dial or calls transferred to their extension can be programmed to simultaneously ring their cell phones. This puts your company at an advantage, as your contributors to business growth are instantly available to your customers and prospects. If they should not be available, their voicemails are directed to their emails. Thus, they can know they missed a call and quickly understand if the call needs an immediate call back. As an added bonus, they can flip on their soft phone application on their smart phones that has been programmed to mimic their desk phone. Thus, when they call clients from the soft phone, it will be delivering the business's caller ID, not the cell phone's caller ID.
Customize Your Call Flow to Drive Customer Delight - The beauty of a hosted VoIP service is that the call flow can be programmed to drive customer satisfaction. Understanding the majority of your calls and where they are directed is the key here. Some businesses boldly state that "all calls will be answered by a person" and routes all calls to every phone. Where that accomplishes the company's mission, does it satisfy the customer when the person answering the call needs to transfer it elsewhere? So, if the majority of the calls are for a particular department, why not create a ring group where calls are directed first? Alternatively, businesses can utilize an auto attendant at the front of the call flow where the customers can choose among a small number of options that will quickly direct them to a call group that matches their needs.
Recording Calls to Improve Customer Satisfaction - We've all heard the message, "your call may be recorded for quality assurance purposes," so let's assume that is exactly why the call is being recorded! Many business VoIP companies provide the ability to record on demand or record calls involving a particular group of associates. Such recordings are valuable as a training aid, reinforcing positive behaviors and identifying areas for improvement.
Deploy Phones Wherever You Deploy Resources - There's no phone system on the wall limiting who is on your communication platform. With VoIP, you can deploy phones wherever there are resources. Say you've recruited a team of top-notch support engineers based in California, but your office is in Texas. With a hosted platform, they can still be on your phone system and calls can be directed to them as directed in your call flow design. Say your company is growing quickly, and you've outgrown your current location. You can deploy additional resources at home or in a temporary office and, to the external caller, it will appear as if everyone is under the same roof.
It is definitely time for organizations to look at their phone system less as a support system and more as a business application. And, hosted VoIP is the ultimate business app!
About the author: Mark Greim is the Vice President of Sales and Marketing at sipVine, a provider of a variety of VoIP phone solutions and services. Mark has extensive experience working for start-up or entrepreneurial organizations and has a passion for affordable, reliable, and purposeful technology solutions in those environments.