This is an additional post in a series of hosted VoIP feature spotlights. Operating remote locations or a work from home employee base under one phone system is one of the great features of a hosted VoIP platform. Because the phones are registering over the internet to a host site, it views every employee of that company under the same context. Thus, the location of the employee is irrelevant, and it wouldn't necessarily be apparent to the callers of the company.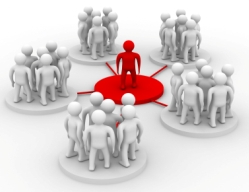 Removing the confines of location from the phone system provides the company many benefits:
The company can have multiple branches across the country on the same platform and under one provider. This should create some economies of scale from a billing prospective, as the provider should provide quantity discounts.
In addition, employees will be able to extension dial and transfer calls easy between locations. Thus, these companies may also be able to consolidate functions or create processes where calls to specific functions are handled by a team of employees, regardless of location. For example, if "customer service" for the company was previously handled by each branch, there may be economies of scale by creating a team that can handle service for any company issue. This can be made possible by creating a ring group of customer service reps where calls are delivered to all reps, regardless of location.
The company can begin to develop a work from home strategy. This opens up a new pool of potential candidates, and they don't even need to be located in the town local to the business. This is a great opportunity to conserve on real estate expense for the expanding company, as well as providing a good employee benefit. It also opens up some management opportunities, so choose this option wisely! There's nothing like a barking dog during a customer service call!
As you choose a hosted VoIP provider, investigate their ability to provide local calling to all the locations of your branch or remote locations. Making a global decision surrounding the consolidation of your communication platform will provide lasting benefits and differentiate your business.
About the author: Mark Greim is the Vice President of Sales and Marketing at sipVine, a provider of a variety of digital phone solutions and services. Mark has extensive experience working for start-up or entrepreneurial organizations and a passion for affordable, reliable, and purposeful technology solutions in those environments.