Many non-profit organizations have turned to VoIP for their communication needs. These businesses range from small philanthropic organizations to large schools and districts. What are the driving factors in these organizations choosing to switch to a Voice over the Internet deployment?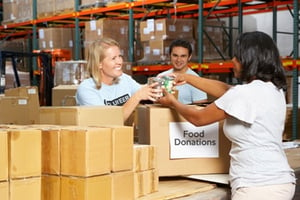 Multiple Solutions – VoIP phone systems come in many shapes and sizes, which match the organizational differences in this market segment well. Larger schools and districts and large non-profit organizations typically turn to a site-based VoIP phone system and bring SIP trunks or traditional PRIs into it for dial tone. Such organizations typically have technical support on staff to handle administrative responsibilities. Smaller organizations turn to a hosted VoIP model where they only need to deploy the number of phones they need and their system is provided by the hosted provider. Administrative tasks are handled by the provider.
Economic Benefits – The large non-profits with site based systems are able to take advantage of one system covering many locations, such as a school district. Each individual location does not need its own system, as they are connected to the host via their IP network. Combining the economics of this from a capital perspective with savings they can achieve by deploying SIP trunks versus PRIs drive substantial benefit. By deploying a hosted VoIP model, smaller non-profit organizations achieve economic benefit by lowering up-front capital costs and on-going administrative expenses. They also get to take advantage of a feature set that is typically found in large, site based PBX systems. Finally, the monthly cost model can also drive savings when compared to the cost of traditional analog circuits.
Rich Feature Set – VoIP platforms deliver a rich set a features that benefit any business sector, and the non-profit organizations can take full advantage of these features. Unified messaging, auto attendants, time of day routing, and many other programmatic features are ways for non-profits to build a system to meet their unique needs. Schools can also deploy phones in the classroom for safety concerns, but the teachers can put the phones on "do not disturb" during class time, so calls to them can roll to their voicemail for handling during non-classroom time. Start-up incubators can deliver direct inward dial numbers to their tenants so these start-ups can appear to have their own phone system and communication presence.
To learn more ways VoIP phone systems can benefit your non-profit organization, feel free to contact sipVine for a no obligation consultation.
About the author: Mark Greim is the Vice President of Sales and Marketing at sipVine, a provider of a variety of digital phone solutions and services. Mark has extensive experience working for start-up or entrepreneurial organizations and a passion for affordable, reliable, and purposeful technology solutions in those environments.