As small businesses experience VoIP phone service from a National Provider, many are left underwhelmed by the customer service and shocked by the monthly service invoice. Although features are robust, the pricing plans may not exactly match the operations of the business. Surcharges and taxes added on top of what was proposed are not inconsequential, leaving the net cost per user much higher than expected. There has to be an alternative to this situation!
Pricing Plans
Let's start with the pricing plans. Companies like Ring Central, Vonage, and 8x8 all offer bundles that increase as available features are added. The lowest price bundle that grabs your attention online may not offer all of the features your business would like.
In looking how these bundles translate to the monthly invoices, there are various additional charges not mentioned in the online bundle selection. Some have additional usage charges, albeit discounted if you prepay for a bundle. Some are unlimited usage but the charge is the same per "user", regardless of whether that is a person at a phone or a phone more of a convenience variety, such as a break room or conference room phone. In most cases, a user charge is tied to every extension.
Surcharges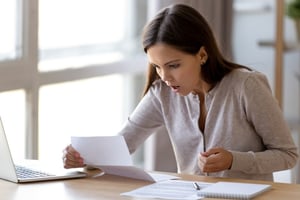 Additionally, businesses can be surprised by the amount of taxes and surcharges applied to the invoice. Examples show that these range from 21% to 49% on top of the monthly service fees.
Ring Central adds a Federal Universal Service Fund (USF), an e911 Service Fee, and a Compliance and Administrative Cost Recovery Fee as surcharges on their invoices. The first two are mandated, but the latter is an add-on to recover real costs. Why do they not just include this in the published rates? Vonage and 8x8 also add USF and 911 charges plus a Regulatory Recovery Fee, which appears to be similar to the Recovery Fee applied by Ring Central.
Alternatives
Alternatives such as sipVine, offer a more straightforward approach to invoicing:
User rates decline as more users are added to the service.
Users are defined as individuals with a personal

Direct Dial Number/Extension

.
Convenience phones are charged at a highly discounted rate (avg. 75% less than a user rate).
All phones can have a direct dial number (DID) and are unlimited as to use.
All phones have all the features offered by sipVine.

Main line/auto attendant, fax lines and other similar services do have charges, but they are lower than the national providers.
Additionally, sipVine pays all of the required regulatory and 911 fees. We also absorb all telco fees into our published rates instead of surprising our customers with surcharge add-ons. We only add charges for state and local sales tax. As an additional bonus, sipVine performs all administrative services on the account as well as phone and call flow programming for no additional charges.
Finally, sipVine has not raised our rates since we began operations in 2005! In fact, we've only lowered our rates over time. Name one other phone provider who can make the same claim!
Is it time to make the switch from a National VoIP Provider? On pricing practices alone, it may be enough to begin the exploration! Make every interaction with customers count with the help of sipVine's complete business communication solution! sipVine provides Hosted VoIP services to businesses across the United States. A better phone system for your small business with advanced features to match your unique business needs! Make your company's business communications better by engaging better customer experiences at every touchpoint. Want to learn more? Our small business phone service representatives are here to answer any questions you have!