Businesses coast to coast are getting back to business and adjusting to the new normal. Fortunately, technology like Hosted VoIP phone service can advance their communications and prepare them for whatever conditions may confront them in the future.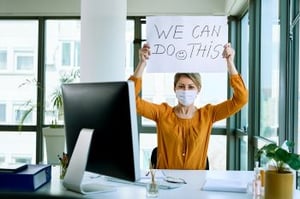 Needless to say, 2020 has been unlike anything we've witnessed in our country's history. A global pandemic, social unrest, political divisiveness, and economic uncertainty have left their marks on our nation and the business climate. We have seen the shuttering of businesses, large and small. There have been fundamental shifts in how and where we conduct business, how we receive goods and services, how we educate ourselves and our children, and countless more examples. Businesses have had to respond quickly to these new realities.
With over six months under our belt since the closing down of our economies, we are now in a varied state of re-opening. Social distancing, occupancy limitations, mask orders and the like are still in place and we are far from "normal". We are likely far from a true understanding of what a "new normal" may be. Yet, businesses are adapting and operating in these new states of normalcy.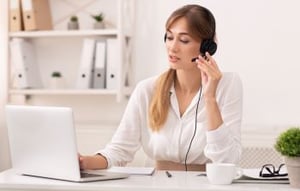 Fortunately, technologies like Hosted VoIP have helped businesses reinvent themselves and have prepared them for whatever the future may hold. We have seen many small businesses who have not already made the shift from traditional systems to Hosted VoIP do so to enable a work from home strategy. Those who had the technology were pleased to see how seamless the transition to remote strategies has been. Not all businesses are designed for such a deployment, but even those who have a strong retail front have utilized these flexible options for their administrative personnel.
As your business is evaluating a "getting back to business" plan, internal and external communication strategies are key. Hosted VoIP phone service can provide you with an integrated, flexible platform to be able to respond to the current conditions and adapt to whatever the future may bring.
Auto Attendants – Special messaging can be in place and adjusted as new situations unfold. Options can provide callers the opportunity to select where they need to be routed. You can direct those options to groups of individuals regardless of where you are deploying them.
Staffing Flexibility – You can have employees work remotely, at the office, or have options for both. There are a variety of devices that enable remote staff to work effectively, whether it be a duplicate desk phone, a soft phone on their laptop, or a soft phone app that connects to their smart phone.

Scaling Flexibility

– With Hosted VoIP, you can turn down or turn up service based upon the number of phones you need to be active, thus your phone service bill is reflective of your current staffing situation.
A key to making these changes fast and easy is to be working with the right VoIP provider. Too many providers out there push you to self-servicing and it is not always intuitive or easy. You have enough on your mind to also become at expert at phone and structure programming. Work with a business VoIP provider who will listen to your situation and goals and provide advice on how to solve the issues. Providers who will make changes and do the programming for you will lessen the burden and administer your system with speed and expertise.
Let's get back to business and utilize a robust, flexible, and worry-free phone system and service. Call us if you'd like to know how Hosted VoIP can fit into your strategies.
About the author: Mark Greim is the Vice President of Sales and Marketing at sipVine, a provider of a variety of VoIP phone solutions and services. Mark has extensive experience working for start-up or entrepreneurial organizations and has a passion for affordable, reliable, and purposeful technology solutions in those environments.