Hosted VoIP providers who refer their customers to impersonal online resources or a self-servicing portal are missing a golden opportunity to deliver outstanding customer service. Business owners do not have time to navigate a website or web portal, devise a plan for the phone system programming, learn how to execute the programming, and train their own staff. They have a business to run and operating a solid communication system is a key to being a successful business.
The telecommunications industry has long suffered from a poor customer service reputation, deservedly so. Large traditional carriers tended to offshore their customer service personnel, making communication difficult. Businesses would have to find the right support number to contact and use the right words to make sure they would get their need effectively handled. This opened the door for alternative communication providers, like VoIP phone service providers, to come in and set a new bar for customer service.
The larger VoIP providers invested their resources in technology and marketing with the intent of capturing market share quickly. They have been very successful in that mission but missed the opportunity to set a new standard for customer service in the telecommunication industry. They've executed on a strategy to provide online resources for customer self-servicing and training. Their customer service representatives basically direct callers to those resources and do not actually make changes on their programming or administer their phone system.
VoIP Customer Service – The Personal Approach
The historic movement from analog phone service to VoIP for businesses over the past two decades was made possible by the number of alternatives in the marketplace. Businesses have a choice to utilize the well-marketed national providers, or research local / regional alternatives of which there are many. They can find VoIP providers who handle customer service with a much more personal and hands on approach.
The opportunity to really set a new standard for customer service is very clear, made possible by the technology itself. In the analog phone service century, the phone service and phone system were separate. Businesses selected and maintained their own phone system and the telecom provider delivered the analog service to the system.
With Hosted VoIP, the provider delivers the VoIP phones, hosts the phone system programming in the cloud, and delivers the phone service via that program. Thus, giving the provider the opportunity to get to know the customer in great detail and ultimately deliver awesome customer service in the following ways:
System Programming & Administration

-

Hosted VoIP providers who invest their resources in their

customer support

can actually handle the phone system programming and administration for the customer. This removes the business from needing to understand how to design, program and administer their phone system.
The provider can listen to the customer's unique communication requirements, consult with them on potential solutions, and handle the programming required. This makes it a true "plug and play" solution. The national providers deliver more of a purchase, self-program, plug and play model.
By going through the post-sale consultation, these alternative Hosted VoIP providers really get to know their customers. Subsequent opportunities to make changes to the system for the customer cements this relationship. Additionally, these providers make it easy to reach support personnel and many businesses get to know their provider's employees and see them as their phone department. This level of a relationship truly sets a new standard for customer service delivery!
Installation & Training

– Again, the national VoIP providers drop ship the unconfigured VoIP phones to the customer with instructions on how to access the web portal for programming. VoIP phones can be configured in many ways to maximize their utilization. Call flows, auto attendants, time of day scheduling, ring groups, call queues, and many other

features

are all designed and programmed by the customer via the portal. Phones are unboxed and installed onto the local network by the customer.
As previously mentioned, alternative Hosted VoIP providers have already completed the programming and many physically install the phones for their customers. They make sure that all is working as intended while on site. They review the router or internet modem settings to ensure that there is nothing that will conflict with the effective operation of VoIP phones over their network.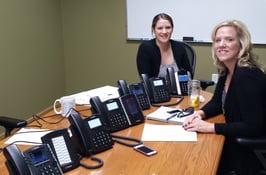 Many people learn in different ways. Written documentation and on-line resources delivered by the National VoIP providers certainly can address a couple of types of learners. However, an on-site or live assisted remote training session can deliver an interactive learning environment effectively to business personnel who need to be efficient at the phone system operation. Alternative VoIP providers excel at this level of customer interaction and help deliver upon the overall customer service strategy necessary to exceed customer expectations.
Is it time to make the switch to a Hosted VoIP provider who can deliver the customer service your business deserves? Make every interaction with customers count with the help of sipVine's complete business communication solution! sipVine provides Hosted VoIP services to businesses across the United States. A better phone system for your small business with advanced features to match your unique business needs! Make your company's business communications better by engaging better customer experiences at every touchpoint. Want to learn more? Our small business phone service representatives are here to answer any questions you have!