Many businesses have moved to VoIP technology and are advancing their communication strategies and reaping the benefits. Small businesses in particular have the most to gain from a Hosted VoIP phone solution as it provides them with all of the features of an enterprise grade phone system. And, the flexibility to support their business as it navigates through the opportunities and challenges of their business life cycle.
An Intro to VoIP Phone Service
VoIP, or Voice over Internet Protocol, delivers voice communications and multimedia sessions via the internet. This technology uses a set of protocols that work together to provide IP telephony functions, much like traditional phone lines. VoIP allows real time phone calls while offering mobility and flexibility not available with traditional land lines.
Delivering voice call functions over the internet makes VoIP phone services accessible from virtually any location. This technology allows businesses and their associates to make and receive phone calls from desktops, laptops, or smart devices, wherever they are located.


Advantages of Hosted VoIP for Small Businesses
Financial
Let's start with the financial benefits of a VoIP Solution for small businesses, as the budgetary considerations always make it to the top of the criteria. When going with a Hosted VoIP provider, the actual phone system and related programming exists in the cloud so all a business needs to purchase are the VoIP phones.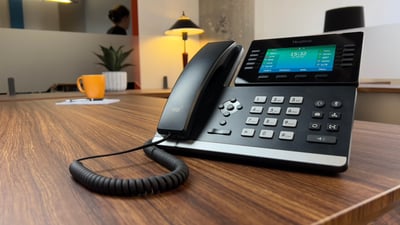 Moreover, they only need to purchase the number of phones they need at the time and can add more as growth dictates. Not only are the VoIP phone options affordable, running between $100 and $180 depending upon their preference, business owners are not paying for a "system" or sizing a system to accommodate the future. The Hosted VoIP phone platform is totally scalable, growing or contracting as the company moves forward.
Because the VoIP phone system is developed and maintained by the VoIP provider, it is the responsibility of the provider to keep the system up to date. Thus, the business doesn't have to worry about system obsolescence and protects their investment over the long term.
The monthly cost of VoIP phone service can also be very favorable when compared to traditional analog phone service. Businesses are charged by the phone and, typically, these charges are inclusive of all features, and local and long-distance calling.
There are no "lines" with VoIP. VoIP calls run over the internet and the only volume restriction comes from the number of people making and taking calls. Thus, there are no line restrictions that could result in busy signals or waiting to make a call until a line is available. The financial benefit here is that a company doesn't have to oversize the number of lines needed to insure their call volume will be handled.
Flexibility

Small businesses are able to take advantage of the tremendous flexibility a cloud-based phone system has to offer. Because the business phone system does not reside within the office, the business can deploy phones wherever their employees are located, including residences, satellite offices, and on the go.
Such flexibility offers the business the ability to expand and defer additional costs for square footage. Or, they can add employees where the market is most affordable. For example, if employee costs in the home market are high, they can add service or support employees remotely in more affordable areas.
Finally, the ability to reach high customer touch employees wherever they are located provides a customer service advantage to the business. Sales employees can have desk phones at home and the office but also soft phones on laptops or mobile devices that duplicate their desk phone, increasing their reachability to their prospects and customers.
Features
With Hosted VoIP, small businesses enjoy similar features and benefits as larger organizations. This includes customized call flow with time of day routing options, auto attendant, ring groups and call queues, paging groups and systems, call recording, direct dial numbers, and many phone related options and features.
Small businesses need to select their VoIP provider carefully, as many of the larger providers want the business to "self-service" their programming and on-going administration. Choosing a provider who seeks to understand your call requirements and can program the system for you provides for better results and user experiences.
Small businesses can gain advantages on their competition by taking advantage of the financial benefits, flexible options, and the feature set of a Hosted VoIP phone system. If your current system isn't meeting your business needs or advancing your communications with your customers and employees, spend a little time to evaluate what Hosted VoIP can do for you.
Is it time to make the switch to a Hosted VoIP provider who can deliver the customer service your business deserves? Make every interaction with customers count with the help of sipVine's complete business communication solution! sipVine provides Hosted VoIP services to businesses across the United States. A better phone system for your small business with advanced features to match your unique business needs! Make your company's business communications better by engaging better customer experiences at every touchpoint. Want to learn more? Our small business phone service representatives are here to answer any questions you have!