Today, businesses are evaluating everything to do with the definition of the "office" and the office phone system is a key component to establishing a flexible environment. There are several other triggers that also lead to the evaluation of the office phones. So, when is the right time to replace the office phone system?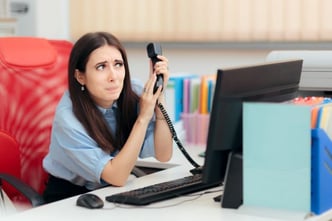 Many business owners today look around their office and see a different environment than existed even five years ago. Perhaps as many as one half of their staff are not working at the office, with many working from home or another location. Their remote employees work from their personal cell phones or simply email for business communication. They see their office phones tied to an on-site system and sitting idle. This environment alone calls for a different approach to their communication practices and system.
Reasons to Upgrade your Office Phone System:
Old Technology

– Several businesses are still holding on to an old phone system tied to analog lines. Traditional phone service providers are doing everything possible to force businesses to change, including quadrupling the prices for analog lines over the past ten years. Phone system manufacturers have also forced the hand of businesses by exiting the analog phone system market. Thus, equipment is becoming difficult to maintain and replacement parts are either unavailable or outrageously priced. Finally, the business itself may have outgrown the phone system and expansion modules may not be available nor would it be a good decision to expand upon old technology.

Business Move

– An obvious time to re-evaluate the office phones occurs when the business relocates. There is no need to spend the money to move an old, in-house system when that money can be applied to securing new technology that offers the business significant flexibility going forward.
Contract Expiration – Many phone service providers still hold their customers to term contracts. Additionally, the old phone system may be tied to a service contract as well. Get ahead of these expirations and evaluate your alternatives.

Provider Customer Service Experience

– Large traditional telephone companies or national VoIP providers make it a challenge for businesses to receive service. Between off shoring their call centers and a general lack of awareness of the path to issue resolution, businesses are underserved and underwhelmed by the customer service experience these providers offer.
Why a Hosted VoIP Office Phone System is the Right Choice!
Moving to a Hosted VoIP platform with the right provider solves all of these issues. First and foremost, the flexibility of the technology will help your office phones conform to how your business operates today. Because the phones connect to a cloud-based system over the internet, your office phones no longer need to connect to a PBX housed in the office. Thus, your remote employees can be back on the office phone system and fulfill your communication strategies in support of your customers. They can have a VoIP desk phone at their location or work with a desktop or mobile soft phone.
Hosted VoIP relieves you of the cost of maintaining an old phone system and provides you with protection from future obsolescence. The only equipment costs you incur are the cost of the phones. In the future, you may have to replace a phone or two, but you won't be required to replace or upgrade all of them unless you absolutely want to. Service contracts are no longer necessary, and the pricing of Hosted VoIP will likely be less than you pay with traditional telephone services. Some providers do provide rental options for the phones but be wary. Either these rentals essentially tie you into a contract or they have no end date which can mean paying a lot more for the phone rental than you would with an up-front purchase.
If you are moving your business to a new location, Hosted VoIP can help in several ways. You can evaluate your office space needs based upon how your business is operating, as you may have a mix of workers dedicated to the office, some exclusively working remotely, and some who may flex between the two. With Hosted VoIP, you can match your phone needs with how and where people work. Additionally, as you evaluate the construction of the office, you no longer will need to have copper wiring for your phones, as the phones share an ethernet connection with your computer. Some models of VoIP phones even have built in connectivity to an office WiFi network, so a cable plant may not be required at all. Desktop soft phones can work however your computer is connected to the internet, ethernet or WiFi. Finally, switching to Hosted VoIP provides you with flexibility on your actual moving day. Work with your new VoIP service provider to time the installation and porting of numbers to match your ideal situation.
When a contract expiration with your current phone service provider affords you the opportunity to re-evaluate your office phone system, be sure to look for Hosted VoIP providers who do not require term contracts. You should not be held to any "strings" to force your utilization of their service. Additionally, this should embolden your provider to deliver exceptional service, or risk losing your business.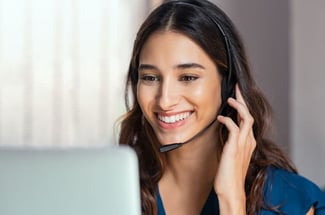 Lastly, your business is entitled to receiving excellent customer service, just like your customers would expect to receive from you. Research your potential hosted VoIP service providers. Find out where their customer service staff is located and how they resolve any issues you may have. Do they simply force you into a self-servicing mode via an on-line portal, or do they perform the phone administration for you? You don't need to be a phone system administrator or programmer, as you have other daily responsibilities. Your phone service provider can perform these functions for you, but you need to find a provider who will do this.
Office Phone System Upgrade with sipVine!
Is it time for a new office phone system? Make every interaction with customers count with the help of sipVine's complete business communication solution! sipVine provides hosted VoIP services to businesses across the United States. A better phone system for your small business with advanced features to match your unique business needs! Make your company's business communications better by engaging better customer experiences at every touchpoint. Want to learn more? Our small business phone service representatives are here to answer any questions you have!