Most small businesses select VoIP phone service for their communication needs. But, why has this been the most preferred solution among businesses in this segment? A Hosted VoIP phone service offers flexibility and affordability while being stocked full of features that can transform your business and improve your communication practices and customer service results.
Flexibility

A key to building a successful small business is being flexible. Such flexibility manifests in human resource management practices and technology applications. Hosted VoIP business phone service presents businesses with many flexible options. For example, technology that adapts to how your business operates to benefit your customers and associates.


Phone service goes where you go. Because Hosted VoIP is a cloud-based telephony model, you can connect your VoIP phones or devices wherever you operate. Meaning that you can have associates work from home, client location, or any other location in addition to your primary office space.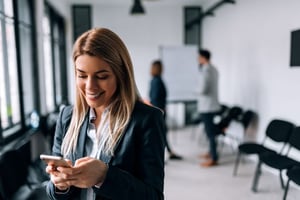 Additionally, employees can be included in any ring group or call queue. Or make, receive and transfer calls just as if they were on-site at your main office. Highly mobile employees can use soft phone applications on their mobile device or lap top, making these devices work just like their desk phone!
The phone system is scalable to your business. One of the great advantages of Hosted VoIP phone service is that you don't need to buy a full phone system. Removing the need to purchase a certain set of phones or pay for expansion modules as you grow.


Additional VoIP phones can be added as you need them. Saving you from under-sizing your system as you start out, only to replace it later. Not to mention, preventing you from overpaying for a system based upon expected growth.
The feature set is programmed to meet your communication needs. Hosted VoIP has the flexibility to be programmed to match your business philosophies and operational needs like:


Selecting which

phones ring with the main line

and in what order.

Custom creating an

auto attendant

to route callers to their desired associate or group. Either before or after a primary ring pattern.

Creating different ring patterns and auto attendant programs based upon the

time of day

.
With many customizable applications within the technology, you can easily create a system that meets your business's unique requirements.
Affordability
Small businesses rarely can afford mistakes when it comes to technology. Hosted VoIP phone service provides many financial advantages to the small business.
Up-front costs. A VoIP phone system is very affordable especially because you are not purchasing a phone system. The system is resident at the Hosted VoIP provider's secure data center and all the small business needs to do is purchase the VoIP phones. This drastically reduces the initial capital outlay.
Monthly rates. Affordability extends to the monthly cost of VoIP phone service. Unlike analog lines, Hosted VoIP providers charge by the phone (user). These rates tend to include all local and long-distance calling, similar to your cell phone providers.


Traditional business phone service companies have attempted to make up for the mass exodus of analog line customers. One way they are doing this is dramatically increasing rates per line, further proving the savings that can occur with making the switch to Hosted VoIP phone service.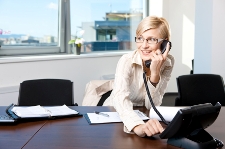 Manage Obsolescence. With a Hosted VoIP phone system, you never have to worry about phone system obsolescence again! Maintaining and advancing the technology is the responsibility of the provider.
As time passes, you may need to replace a phone or two. If your initial phone model is no longer available, simply choose an up-to-date model as your replacement. The older phones will still function and the operation processes will be similar.
Small businesses can benefit from the continued progression of the feature set offered by Hosted VoIP phone service providers. They receive the same features larger enterprises enjoy at a fraction of the cost. This provides small businesses the opportunity to compete at a higher level and deliver a world class communication experience.
Is it time for a new office phone system? Make every interaction with customers count with the help of sipVine's complete business communication solution! sipVine provides Hosted VoIP services to businesses across the United States. A better phone system for your small business with advanced features to match your unique business needs! Make your company's business communications better by engaging better customer experiences at every touchpoint. Want to learn more? Our small business phone service representatives are here to answer any questions you have!